Style
My faceups might be roughly divided into three types – natural, glamour and fantasy. All of them share very realistic and detailed character, but they differ in terms of some elements.
Natural faceup is painted with special attention to the face features. It consists of realistic face shading in natural colors, rich skin texture and the features like freckles, moles, veins etc. Doll's face looks as if it wasn't wearing any makeup or a very delicate one. For this type I use shimmers, but mostly in a way to imitate the natural skin shining. The finish of the face is not entirely flat and for the lips I use mostly semi-gloss finish with irregular structure.
Glamour faceup includes realistic shading and textures as well, but a little bit less than the realistic one. Instead, there is more color used for eyes and lips so the face looks as if it was actually wearing stronger makeup. The color range is unlimited and all kinds of shimmers, metallic effects, pearl colors very recommended to achieve the glamourous look! Within this style I like to apply some crazy ideas like untypical eyeliner color, golden details, some extra elements attached to the face. For the lips finish I would recommend matte or full gloss, depending on the general idea.
Fantasy faceup is still very detailed and realistic. It may be whether more natural or glamour, but the main difference between this one and the others is the fact of more complicated patterns painted on the face. The 'fantasy' word doesn't apply here only for the world of elves and trolls (these are very welcomed too of course!), but it means all the ideas requiring more of painting job. Within this style the whole variety of shimmers and extra effects are highly appreciated. Please remember that you may also give me a free hand here and let me surprise you!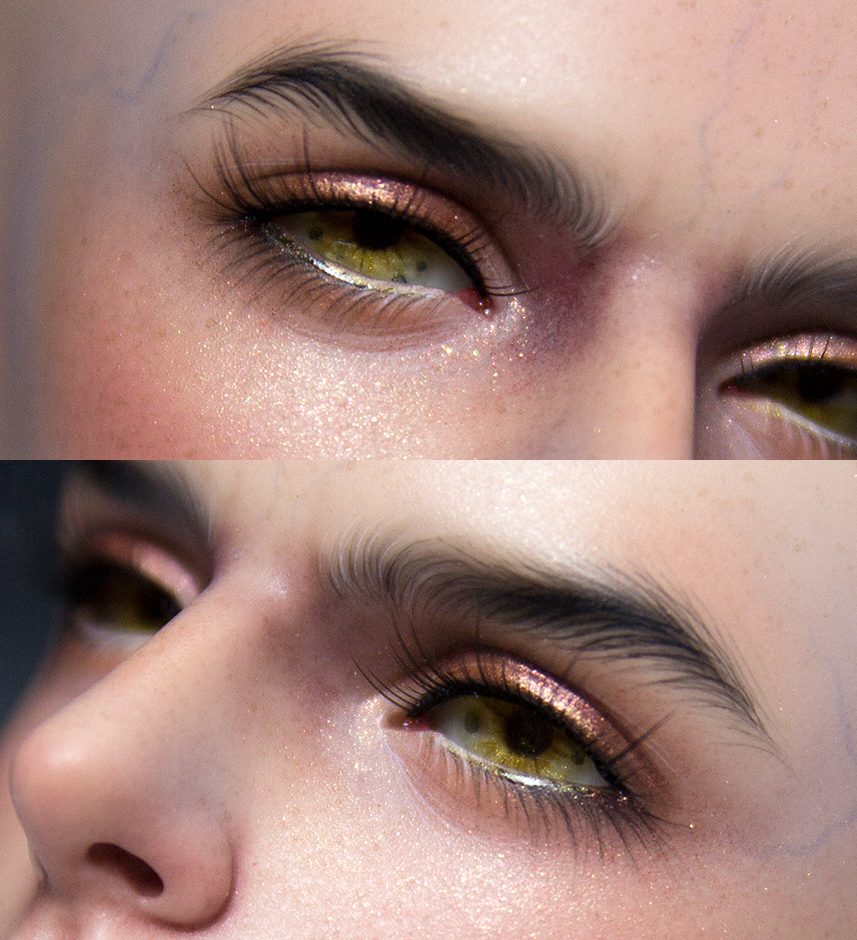 Realistic faceup:
Tiny/YoSD: 130$
Artdoll/MSD/SD: 150$
heads bigger than standard SD: 160$+
Skin texture, freckles, stubble, veins, shimmer and metallic pigments are included.
Special effects:
Facial hair, hairline, tears, convex scars, little ornaments etc.: +10-40$
Fantasy painting: +40-80$
Stickers/glued on jewellery/beads/swarovski crystals: +2-5$

Chest blushing: 60$ – 90$ (depends on size and complexity)
Manicure/pedicure: 40$ – 80$ (depends on size and complexity)
Resin match: 20$ – 40$ (depends on color difference)
Faceup removal: 10$
Eyelashes from my stock: 5$ (white, blonde, red, dark brown, black)
Faceup protecting mask: 2$
Handmade resin eyes: 30$
I don't offer: modifications, repairs, full body blush, body modifications, body tattoos, seam sanding, partial faceups, faceup restoration, painting not BJD dolls, painting recasted dolls.
Shipping
Global Expres (priority, fully trackable, insured for 130$): EU  10$ – 16$ / Overseas  12$ – 18$
EMS (fully trackable, insurance for 260$): 44$ – 53$
For higher insurance quote, please contact me!
Notice: Parcels from outside of EU with value over 30$ may be charged by customs (fee amount is around 23% of the declared value). Please be prepared to bear this cost. Only parcels marked as a 'gift' and declared under 30$ (insurance amount is also considered) are free of any taxes.
Conditions
I am open within two days once a month. I notify a few days before on my social media – FB page and instagram about next opening.
Please apply using COMMISSION FORM below or via email: paulifaceupstudio@yahoo.com sending information about the doll/dolls and your faceup idea.
Slots are given at my discretion, considering my current situation with the baby, please understand this. I will reply to those who I am able to serve during actual month.
Doll heads should be sent out within a week of slot confirmation. If they were not sent within this time I cancel the order.
Payment for the services must be sent after I confirm receiving your doll/dolls, before I start my work. Shipping fee is calculated after the commission is finished. I receive the payments in USD.
When sending your dolls please provide the face masks, it is necessary to protect the faceup and eyelashes when sending back. If you don't have a face mask for your doll you can buy one from me for additional 2$, however if you choose not to then I'm not responsible for any faceup damage if such happens, shipped without protector.
I paint in order of parcels arrival, so your doll's place in line as well as waiting time depends on when it arrives. The dolls that arrived earlier will be served earlier.
Waiting time is 10 – 90 days, however – as a mom of a newborn – sometimes I won't be able to paint as much as I planned, so please apply only if you are not in hurry with your dolls. I will be thankful for your patience and understanding of the situation. When something unexpected happens I will you notify about the delay.
I keep the right to cancel the commission and refund the payment, in case I realize I'm not able to finish it.
I don't make copies of someone else's works or style. Please, be sure that you know and like my painting style before booking  a slot.
If the previous faceup hasn't been removed well enough I have the right to charge you additional cost for cleaning it. I am not resposible for any stains or other resin flaws that may reveal after cleaning.
 Sending pictures for reference is obligatory! It might be photos of already existing faceups or some loose inspirations, moodboards. I won't start my work until I receive at least one reference picture.
I keep the right to decline a commission request in case I decide that it exceeds my painting style or violates my personal beliefs.
I don't usually send progress pictures during my work. I always send pictures to accept before finishing touches though, so you can ask for some minor changes, but nothing dramatic. Thus, please describe your faceup idea precisely and provide as many picture examples as possible to illustrate your concept. If your description is poor then I assume you give me the right to decide on unspecified things, in such case please don't ask me to make changes on something you didn't specified before. However, I'm always very happy to receive more or less free hand and create with inspiration flow!
If you happen to have any reservations to the faceup and want to get something changed – some small adjustments are free, but the ones that require changes on deeper layers of the faceup will be charged for additional cost (10-50$) or might be impossible to perform. Especially if your request was poor and inexact. If you are not sure about a specific element and want to have some space to decide while it's in progress, please let me know in the commission form and I will provide you the progress pictures at the certain step.
There is no possibility to get any discount in case you are not happy with the faceup, especially if your description was poor and inexact. In such case I can give up on finishing my work if asked, but anyway I will have to charge you for the original price as a compensation for my work that I've done the best I could. Nevertheles, I'm always happy to provide a couple of solutions to satisfy both sides.
My work is not perfect, because there's no such thing like perfection. Also it's not perfectly symmetrical, neither human face is. I believe some imperfections result form the process of living hand creation and make the painting work noble.
I send the parcels back within a week after receiving the payment.
I am not responsible for any loss or damage after I send the parcel out.
I DO NOT PAINT RECASTS!
Recast means a counterfeit doll made illegally with no respect for the artist. They are often being sold on AliExpress or other chinese selling sites. If you have a recast and know about it please DO NOT send it to me, I WILL RECOGNIZE IT after over 10 years in this hobby and thousands of dolls gone through my hands. If you are new to the hobby and bought a BJD via Aliexpress – it's most probably a recast and I won't paint it. If you are not sure about your doll, please do a PROPER research before sending it to me.
In case I would receive a recast anyway I charge 50$ for a wasted slot + the cost of shipping back.
Booking a slot indicated that you accept all the rules and conditions provided on the website: www.pauliannedolls.art
Personal data provided to Pauli Anne Dolls is protected by law. Collecting and processing personal data is based on the nature of the relashionship and collaboration between Pauli Anne Dolls and the data subject. We will not disclose any personal data you provide to us to any third parties.
Care
Ball jointed dolls in general, as well as hand painted doll faces or elements are expensive artworks, dedicated for adult collectors and hobbyists. They are not children's toys.
Hand painted goods should be treated with special care to keep them in good condition for a long time. Do not touch them, as it may cause staining, scratches or other damage. They may easily get dirty or oily from bare human hands, so wearing gloves while handling is highly recommended.
Do not expose hand painted goods to water, extreme temperatures or excessive humidity, it may cause irreversible damages.
When transporting your doll, provide the face cover to protect the faceup.
If the faceup got dirty in any way, try to remove the stains with dry magic sponge (available in household stores), rub gently until the dirt is gone, this should work.
If  the eyelash would fall off, what may happen when changing the eyes or playing with your doll, use a typical water-soluble craft glue to attach them again. You may wet the eyelash first to remove the previous glue layer and apply the new one with a toothpick, wait a minute until the glue starts to dry and attach.